In recent years, tax filing through electronic platforms has become increasingly easier, particularly as new integrations through the Canada Revenue Agency (CRA) website are available.
TurboTax is the most popular and best-selling income tax software in Canada, and has been used for more than 20 years by millions of Canadians. It is owned by Intuit Canada.
If you're considering filing your taxes yourself online, continue reading our TurboTax review below.
How much is TurboTax?
The website lists the paid online versions:
Standard: $19.99 per return
Premier: $34.99 per return
Self-Employed: $44.99 per return

For most people, the Standard package will be all you need.
The Premier package is for you if you need advice on investment income and expenditure, rental income, and/or expenditure on land.
The Turbo Tax Self-Employed version is for self-employed professionals and offers guidance on reporting income and expenses. It's perfect for home-based businesses and side hustles.
Why You Should Use Turbotax
TurboTax is one of the most affordable tax software apps with top features that make tax returns easy to complete. Let's look at some of their best features:
NETFILE Certified
Once your tax return is completed, it can be automatically forwarded to the CRA for processing through NETFILE in TurboTax. NETFILE is the safe CRA framework for the provision of electronic tax. This automatic transition means that the refund will be received faster, sometimes in seven working days.
A Comprehensive Built-in Support System
Multiple types of support are available in an area which distinguishes TurboTax. Users get access to an online forum, phone support, and training videos. Although the support level you can access depends somewhat on the edition of TurboTax you use, support is always available, even for the free version.
TurboTax is very simple
Approximately 50% of Canadians feel intimidated by the thought of filing their own taxes. If you are not an accountant who is used to seeing numbers, you obviously do not think that a leisurely weekend should be spent manually generating a complex tax return. TurboTax has built a very simple, easy to follow, step-by-step process to file your taxes.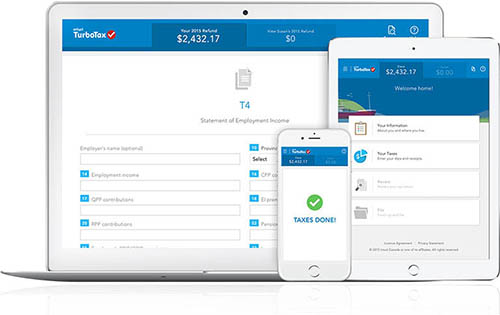 CRA Auto-Fill My Return
Automatically collects all the available tax slips in your TurboTax return so you are signed in with the CRA My Account, then you do not have to enter the details manually. This contains separate slips for T3, T4 and T5.
TurboTax Assist and Review
While most people can file taxes without any assistance, you also have the option to check your tax return before you file, with real live tax professionals. It costs $69.99 and helps to make sure that you get the best return possible. The price is a little bit higher for self-employed returns, at $84.99.
TurboTax Full Service
The TurboTax Full Service will support you if you choose the professional option to get your return, but want to do it online. For $99.99, just upload your tax documentation and you will be able to access a TurboTax professional who can handle your return from beginning to end. Corporate owners can pay $179.99 for the same service.
Secure Software
The developers of TurboTax made sure that the security of the software is high-quality. It features multi-factor authentication and data encryption to safeguard your privacy. Your private data is kept secure!
Extra Resources
There are a number of other tools on the TurboTax website, including an updated blog, tax and refund calculators, cost claim calculators for individuals who are self-employed, tax tips, and more.
Should you use TurboTax?
You can file all provincial and federal returns free of charge if you have a simple return. Turbo Tax belongs to Intuit. Intuit is the company behind QuickBooks and the Mint group as well. All three software fit into the framework of Intuit.
If you are still unsure about TurboTax, take into account how valuable your time is. Review which TurboTax version you need and how many add-ons you will be needing.
Try the software free of charge. Nothing has to be paid before you are ready, so before you decide, you can see exactly what the company is charging you.
TurboTax continues to be Canada's number one option for tax return software in 2020. The combination of unique features, vast support systems, and a highly intuitive user interface makes it tough to beat. TurboTax Free is for everyone – from students to tax professionals. Take a peek at TurboTax if you have not already paid your taxes.
Free Sign up
Branded Surveys
Take surveys. Get paid.
Join over 3 million users who earn cash & rewards for giving their honest feedback!
Tell us about yourself and answer a few basic questions so we can match you with surveys!
Get paid now