What are the best credit cards to rebuild credit in Canada? Pull up a chair, we've got the only list you need. Even if you have a poor credit score or no credit history at all, you can still get a credit card. Credit cards have a definite advantage over pre-paid cards and debit cards. When used properly, they help you establish a positive credit history which improves your credit score. This is an attractive solution for immigrants with no credit history, students, consumers who have previously gone bankrupt, or those with poor credit. It's not easy to regain control of your financial life, but these cards can help you get back on track.
There are two types of credit cards you can get regardless of your credit rating. The first is a guaranteed-approved credit card which doesn't require a security deposit. With this type of credit card, your credit limit will likely be just a few hundred dollars.
The second type of credit card is called a secured credit card. Secured credit cards require a cash deposit to "secure" the card. In the event you default on your payments, the credit card issuer will use your security deposit to settle the debt. Generally, your credit card limit will be the same amount as your security deposit. You can only get your deposit back if the card expires or you cancel it. Although this requires more capital upfront, this type of credit card is a better option for those who need a higher credit card limit than what is provided by a guaranteed approval credit card with no security deposit.
To help you choose a credit card to rebuild your credit, we did some research on our credit card comparison tool and identified the 13 best credit cards to rebuild your credit in Canada.
What is a credit score and how is it calculated?
If you're reading this article, you've probably experienced a financial trauma and need to rebuild your credit score. Before we dig into the different cards on the market that can help you do that, let's take a quick look at how a credit score works, and easy ways you can improve your credit score right now.
Your credit score is three-digit number on a scale of 300-900 that tells creditors how likely you are to pay back your debt as agreed. The worst score is 300 and the best score is 900. Your credit score is determined by the following:
Payment history: how often you make your payments on time and how often you pay late or miss a payment altogether.
Credit utilization Ratio: how much you owe on your credit cards and lines of credit
Age of credit: how long you have been using credit and how old each of your credit accounts are
Inquiries: how often do you apply for credit
Public records: any credit accounts that have been sent to collections, if you've been sued for monies owed, CRA judgments, and even unpaid child or spousal support
Quick and easy ways to increase your credit score
There are many things that influence your credit score, some would even surprise you. Both Equifax and TransUnion use slightly different scoring models to calculate your score. However, there is some overlap between them. Both credit bureaus look at the following six behaviours, and they impact your score:
Check your credit score often
There could be reporting errors or inaccuracies that are dragging down your credit score. Borrowell helps you spot mistakes so you can dispute them and give your credit score a boost. It's free to use and you can check your credit score as many times as you want without hurting it.
Make your payments on time
Your payment behaviour has the biggest impact on your credit score. Missing a payment could cost you as much as 150 points off your credit score. Making your payments on time every month without fail is the easiest way to give your credit score a boost.
Pay down your debt
The more money you owe on your credit cards and lines of credit, the more it drags down your score. The quickest way to give your credit score a boost is to pay off your credit balances owing. The best way to pay off your debt is with either the snowball or avalanche method. The method that's right for you will depend on your goals and needs.
Clear up public records
Public records can have a huge negative impact on your credit score. They include things like balances that have been sent to collection agencies, bankruptcies and consumer proposals, and even court judgements against you. If you have something like a credit card or cell phone bill that's been sent to a collection agency, you need to pay that off as soon as possible.
Keep your credit accounts open
The older your credit accounts are, the better. Try not to close things like your credit cards or lines of credit, even if you don't use them anymore. Use old accounts once or twice a year to keep them active, and pay the balance off in full.
Stop applying for new accounts
Every time you apply for credit such as a credit card, loan, or even open a cell phone account, you'll need to submit to a credit check. It's called a hard credit check and it can damage your credit score if you have too many of them in a short period of time. If you're trying to increase your credit score, stop applying for credit unless absolutely necessary.
Best credit cards to rebuild credit in Canada
If you're ready to start building your credit score back up, there are two different types of credit cards to choose from; secured credit cards and unsecured credit cards. But there is also a third option often overlooked; prepaid cards. Let's take a look at what each type of card offers so you can make the most of your credit-building journey.
Best Prepaid cards to rebuild credit in Canada
The best prepaid cards offer all the perks of a credit card but you don't have to provide a security deposit or accumulate debt when you use them. Instead, you load the card with the money you already have; money from your chequing or savings account. In the past, prepaid cards wouldn't impact your credit score, for better or for worse. But times have changed.
There is no credit check required to get a prepaid card and using it will not impact your score either. That's because you are not borrowing any money from the prepaid card issuer, so nothing reports to the credit bureaus. But prepaid cards have come a long way and some of the leading prepaid card issuers offer exclusive credit-building tools and resources available to you when you sign up for their card.
If you're getting rejected for credit at every turn because your credit score is particularly poor, or you don't have any credit history at all, we are here to throw you a lifeline. Whether you are new to credit, like immigrants and students, or you've experienced a financial crisis like a job loss, divorce or critical illness, you have options available to you. Let's start with the best prepaid cards that offer credit-building resources.
KOHO Mastercard® Prepaid card (formerly KOHO prepaid Visa)
Get $20 with code HARDBACON
I don't have enough good things to say about this card, so here's the skinny on why I love KOHO. It's a prepaid card that uses your own money that you already have. That means you can use it for all your regular, day-to-day purchases without going into debt. There is no credit check to sign up and you don't have to provide a security deposit either.
KOHO offers 1% cashback rewards on groceries, bills and services with its free plan. Now for the best part! If you need to rebuild your credit score you can sign up for their Credit Building program. This is a monthly subscription service that costs $10 a month for a duration of 6 months. As long as you make that $10 payment on time, KOHO will report that payment to the credit bureaus each month. All you have to do is open a spendable account, sign up for the credit building program, and make sure there is at least $10 in the account every month. They take all the work and cringeworthy upfront costs out of fixing your credit score.
And you can also get more for your money by subscribing to one of KOHO's paid plans. You can get up to 2% cashback on some of your purchases, and will pay 7$ every month instead of 10$ for the Credit Building program.
Mogo Visa Platinum Prepaid Card
The Mogo Visa Platinum is another prepaid card that uses the money you already have. It's free to use and doesn't require a credit check or security deposit. Not only that, you're also contributing to save the planet: indeed, for each payment with your Mogo card, Mogo will plant a tree.
Mogo also offers a free credit monitoring service when you activate the Mogo Visa Platinum prepaid card. You won't build your credit score by using the card, but you can monitor your score for free and check your credit as many times as you want without impacting your credit score. Mogo offers free insider tips on how to improve your score. According to their website, the average Mogo Visa Platinum Prepaid card user reports saving about $201 dollars a month. Their budgeting app and money management tools can help you save more money and pay down your debt faster, thus increasing your credit score.
Secured credit cards to rebuild your credit score
A secured credit card is a type of credit card that requires the applicant to submit a cash deposit to "secure" it. That means you give a lump sum of money to the credit card company to keep and apply to any balance owing in the event you default on your payments. Typically, your credit card limit is determined by the size of your security deposit.
Secured credit cards are available for people with any credit score, good or bad, or even no score at all. As long as you are the qualifying age of majority in your province, you can open a secured credit card. The downside is that you have to provide an upfront security deposit. That can be tough if your budget is tight, or if financial trauma wiped out your savings account.
Neo Secured Card
Secured Credit Card
Neo Secured Mastercard
Annual fee : 0$

Interest Rate : Up to 24.99%
5% Average cashback - Earn an average of 5% unlimited cashback⁴ at thousands of Neo partners.
Promotion: 15% Welcome bonuses - Earn up to 15% cashback⁴ on your first purchase at participating partners.
Apply Now
We love the NEO Secured Mastercard because it's a real credit card that reports to the credit bureaus. Their site claims to approve a range of credit scores, with some reviewers claiming they were accepted with scores as low as 600. You only need a minimum security funds of $50. There is no annual fee, yet it still offers incredible cash back rewards up to 5% at affiliate retailers, and guaranteed 0,5% cash back rewards on all purchases. Their current welcome offer provides 15% cash back on your first purchase at most of their partnered retailers. There is also an unsecured version of this card, which comes with the same advantages.
Plastk
Plastk Secured Visa
Annual fee: $48
Monthly maintenance fee: $6
Interest rate: 17,99 %
Offer: 0% APR for 3 months + 5,000 BONUS REWARD POINTS
Apply Now
Our favourite secured credit card also happens to be a fairly new credit card on the market. Why? Plastk is the first secured credit card to offer points rewards on everyday purchases. Card rewards were previously a perk only available on traditional credit cards, often with higher credit scores and income requirements. Those trying to recover from a financial crisis and trying to rebuild their credit scores were often left out of premium rewards programs. Plastk didn't think that was fair. With this card, you earn points on everyday purchases that you can use towards things like a credit on your balance owing. Or you can apply them towards merchandise, travel, gift cards, events or even charitable donations.
Right now, if you sign up for Plastk you'll get 5,000 bonus points, which you can redeem after having the card for 3 months. They'll also waive the interest on your purchases for the first 3 months. Be prepared to fork over $300 to secure your card; that's the minimum security deposit amount required. The interest rate is 17.99% APR, but Plastk offers a 25-day interest-free grace period for card purchases and 3 days for cash advances. Between the $48 annual card fee plus the $6 per month maintenance fee, you'll pay a steep $120 per year for this card. But that's in line with the annual card fees of traditional credit cards that offer premium rewards programs. You'll also get free credit score monitoring and financial planning tools through the app.
Capital One Guaranteed Approval Secured Mastercard
As the title suggests, you are sure to be approved when you apply for the Guaranteed Approval Secured Mastercard. It has an annual fee of $59, with an interest rate of 19.80%. The required deposit is between $75 and $300, and the maximum credit limit is $2,500. It provides several benefits, such as Purchase Protection Insurance, Extended Purchase Warranty, Common Carrier Travel Accident Insurance, and Auto Rental Collision/Damage Insurance.
Capital One Low Rate Guaranteed Mastercard
The Low Rate Guaranteed Mastercard is a great choice if you want to rebuild your credit score. It offers a reduced interest rate of 14.90% on purchases and balance transfers. The annual card fee is $79. A security deposit may or may not be required, depending on your financial situation. We don't advise carrying a balance on your credit card, but when life happens you definitely want the lowest rate possible.
ATB Financial Alberta Mastercard–Secured
This secured card is only available in Alberta, and it has an annual fee of $49, and $25 for each additional card. The Alberta Mastercard-Secured has a 19.99% interest rate on purchases and a 22.99% interest rate on cash advances and balance transfers. The minimum deposit required for this card is $500. You won't get any rewards, but you can get up to 25% off the cost of a car rental through participating Budget and Avis locations.
Home Trust Secured Visa
This card helps you improve your credit score without paying an annual fee. Its interest rate on purchases and cash advances is 19.99%. The Home Trust Secured Visa credit card requires a minimum deposit of $500 and a maximum deposit of $10,000. Since your credit limit matches your deposit, you can get a credit limit of up to $10,000, as long as you have the necessary funds. This card is available everywhere in Canada, except in Quebec.
Home Trust Secured Visa (with an annual fee)
This card is the same as the previous one, with two differences. The first is that it has an annual fee of $59, or $5 per month. Each additional Home Trust Secured Visa card has a fee of $19 per year, or a monthly fee of $2. However, its purchase interest rate is 14.9% instead of 19.99%. Like the previous card, this card is available in all Canadian provinces except Quebec.
Unsecured credit cards to rebuild credit
An unsecured credit card is a type of credit card that does not require applicants to provide a security deposit. It is the most common type of credit card on the market. Purchases you charge to the credit card are funds you are borrowing from the credit card company. Your credit card limit is determined by your individual or household income as well as your credit score.
There are almost endless unsecured credit card options to fit almost any credit score. But if you are fresh out of a bankruptcy or consumer proposal, you may find it difficult to get a traditional credit card. Fortunately, there are alternatives you can access if you are finding it difficult to get approval for a traditional credit card.
Canadian Tire Triangle Mastercard
Fee: None
Rate: 19.99%
Rewards: Up to 4% cash back
As far as mainstream credit cards go, the Canadian Tire Triangle Mastercard is one of the easiest traditional credit cards to get. In fact, I know someone who was able to get this card less than a year out of bankruptcy. That's because there is no minimum credit score or income needed to apply for this credit card, making it a great choice for anyone trying to rebuild their credit score.
There is no annual fee for the basic Triangle Mastercard, and you can earn up to 4% cash back in Canadian Tire money at all Canadian Tire locations and partner retailers. You'll get 1.5% cash back on grocery purchases, excluding Walmart and Costco. And you'll also earn $0.05 of Canadian Tire money per litre of gas at Canadian Tire gas pumps and participating Husky gas stations. You'll also get access to their buy-now-pay-later plan on purchases over $150 at Canadian Tire stores and their partner retailers. You can even pay bills like your cell phone, utilities, and in some cases even your property taxes online through your credit card account under the payments menu.
PC Financial Mastercard
Earn Optimum Points
The PC Financial Mastercard is a great card for those with less than stellar credit. While your credit score doesn't need to be perfect, you do need to have a fair credit score of at least 670. Having said that, some Reddit users have reported getting approved for this card with credit scores as low as 660. This makes it a great choice for those looking to level up their credit score and earn rewards in the process. You'll get 30 points per liter of gas at Esso and Mobile, 25 points per $1 at Shopper's Drugmart, and 20 points per $1 at all Loblaws-owned grocery stores like Superstore and No Frills, to name a few.
Scotiabank Value Visa
Low interest rate
Value Visa Card - Scotiabank Canada
Annual fee:

$29

(exempt the first year)
Interest rate on purchase:

12.99%

Interest rate on cash advances:

12.99%
Offer valid until October 31, 2023.
Offer: 0% introductory rate on cash advances and transfers for the first six months*.
Ask for this card
This card is specially designed for people who have just arrived in the country or who have no credit history. The Scotiabank Value Visa has a low annual fee of just $29, and its 12.99% interest rate is below the market average. It also offers an interest rate for balance transfers as low as 0% for the first 6 months. It requires a personal salary of $12,000 per year, and it has a minimum credit limit of $500.
RBC RateAdvantage Visa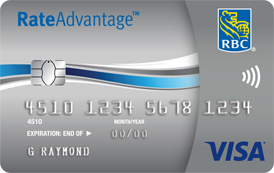 The main advantage of the RBC RateAdvantage Visa, besides the fact that it is free, is that its interest rate varies depending on your credit rating. The lower your credit rating, the higher the interest rate will be, and vice versa. Thus, individuals with poor credit can obtain this card, although approval is not guaranteed. Despite this, its interest rate is generally lower than most credit cards on the market. In fact, the interest rate is based on the Royal Bank's prime rate, plus between 4.99% and 8.99%. It also offers rewards, such as a 3¢ per liter gas rebate at Petro-Canada and 20% more Petro-Points when making purchases with the card.
None of these cards are right for you?
We understand that maybe a credit card for bad credit just isn't what you need right now. There are other ways to rebuild your credit score without plastic. You can still access personal loans to help you on your credit-building journey, even if you have bad credit. Let's take a look.
Refresh Financial secured loan
Have you heard of a credit builder loan? It's a fairly new product on the market that acts like savings account, but reports to the credit bureaus like a loan. The best way to build credit is to use credit. But you can't use credit if the banks all say no. With the Refresh Financial credit builder loan, you choose the amount you would like to "save" and the term. You are guaranteed to be approved and every payment you make is reported to both credit bureaus, improving your credit score month over month. Because it is not a loan, no money is given to you. Instead, at the end of the term you have nice little nest egg and a polished-up credit score. Of course, there are interest and fees involved for this product, as with most financial products.
Consolidation loan
What if you need money advanced to you right now? Like maybe your car broke down and you need it to get to work. Or maybe you have a lot of high interest debt like credit cards or payday loans and can't seem to make any headway. Fear not, there are alternative lenders who advance loans for people with weaker credit files. Maybe a small consolidation loan, a personal loan used to pay off your high interest debt, might be just what you need. Expect higher interest rates though. These companies take on riskier borrowers so they mitigate that risk with higher interest rates. Use our personal loan comparison tool to find the right lender for your needs. Make sure you read the fine print and run the numbers to make sure this is the right move for you. Use the Hardbacon Credit Card Repayment Calculator to help you put your credit card debt into perspective.
Find the best credit card for your needs