The CIBC AC Conversion Visa Prepaid Card is a popular choice among people who want the ease of a credit card without any hassle. Like any other prepaid card, you can apply for a CIBC AC Conversion Visa Prepaid Card without having to go through a credit check. But, is it better than other top names like the KOHO Mastercard® Prepaid card (formerly KOHO prepaid Visa)? We'll find out in this CIBC AC Conversion Visa Prepaid Card review and look at what this prepaid card in Canada has to offer.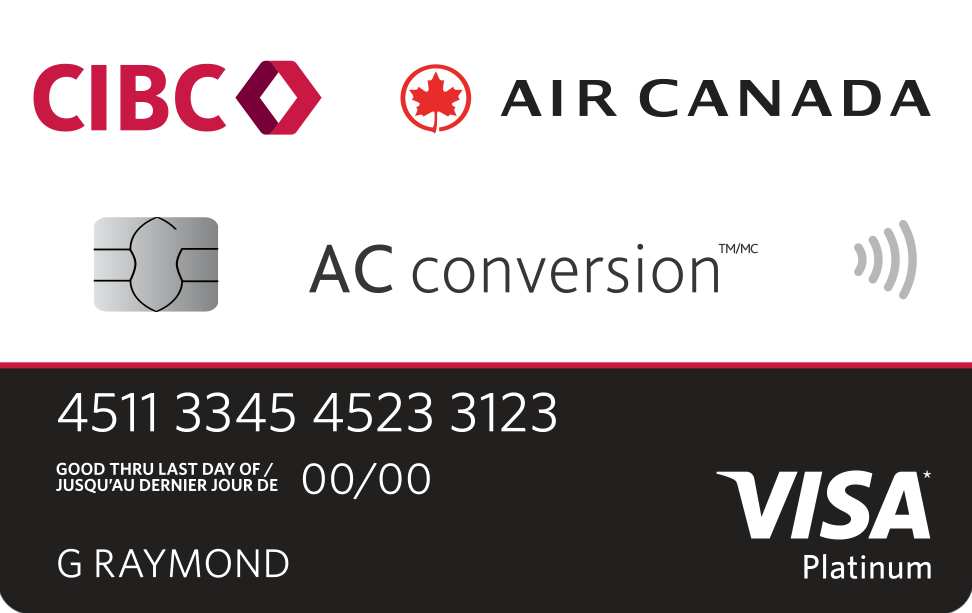 Fees: 2.5% foreign exchange if using an unsupported currency
Reloadable: Yes
Welcome Offer: 1% cash back
Introduction to the CIBC AC Conversion Visa Prepaid Card
The CIBC AC Conversion Visa Prepaid Card is a no fee, multicurrency prepaid card that comes with some great perks. It is good for people who travel a lot or shop at international stores since it supports up to 10 currencies including:
Canadian Dollars
Hong Kong Dollars
US Dollars
Turkish Lira
Euros
British Pounds
Australian Dollars
Japanese Yen
Swiss Francs
Mexican Pesos
The card works at all stores that accept Visa cards. Plus, it can even be used to withdraw money.
Issued by CIBC in partnership with Visa and Air Canada, this card works both online and offline. You will only be limited by the amount of money on your card. This is a prepaid card so it doesn't come with a loan facility. If you want overdraft and other credit card features, then you can compare Canadian credit cards with Hardbacon's comparison tool.
CIBC AC Conversion Visa Prepaid Card costs, penalties, and fees
This CIBC AC Conversion Visa Prepaid Card is marketed as a no-fee card but still, there are some applicable charges. Here's a breakdown:
Sign up fee: $0
Reloading fee: $0
Conversion fee: $0
Local withdrawals: $0
International withdrawal: $3.50
Foreign exchange fee: 2.5%
Currency transfer: Variable exchange rate
The card remains true to the promise and is free to own. You will not have to worry about signing up fees or monthly payments. However, there are some other fees that'll be deducted from your balance, wherever applicable.
Most important of these is the foreign exchange fee that will only be charged when you pay in an unsupported currency. Since this card supports some of the most widely used currencies, you will rarely have to pay this fee. It's fixed at 2.5% of the amount, which is the standard.
Automated Teller Machine (ATM) withdrawals in Canada are free. The card works at almost all ATMs in the country. You will enjoy one free international ATM withdrawal per month. Every subsequent withdrawal will cost you between $3.50 and $10 based on the country and ATM provider.
Some other fees include replacement charges ($25) and a $15 courier fee if you want a replacement card sent quickly. All in all, we think this is a very affordable card. There are no inactivity charges or shortfall fees, which are charged by some providers. It might be a good idea to compare prepaid cards in Canada for a full understanding of how affordable this card is.
How does the CIBC AC Conversion Visa Prepaid Card work?
The CIBC AC Conversion Visa Prepaid Card works like any other prepaid or debit card. You will be able to use it to withdraw money from ATMs, do online shopping, and swipe at physical locations. The card looks like a traditional card and will have your name, expiry date, and the number printed on it. All this information is important to be able to use the card.
The card is reloadable and the company offers a variety of ways to add money to it. Every time you use the card, the amount will be deducted from your balance. Since there's no overdraft facility, you will not be able to spend more than what the card holds.
CIBC AC Conversion Visa Prepaid Card features
Here are some of the main features of this card:
Cash back
The CIBC AC Conversion Visa Prepaid Card offers 1% cash back on all purchases. The best thing about this feature is that it doesn't have to be activated and there are no special codes to use. You will get 1% back every time you use your card, whether online or offline. The promotion, however, expires on October 31, 2023.
Multiple currencies
This is considered a travel card as it supports 10 currencies including some of the most widely used currencies such as the USD, CAD, Euro, and GBP. You will be able to deposit CAD and convert it into your desired currency without having to pay a conversion fee.
Customer support
With this card, you will enjoy 24/7 support. You may need to get in touch with the helpline if you ever face an issue such as a misplaced card. We found the team to be professional and always available.
Security and protection
The CIBC AC Conversion Visa Prepaid Card is safe to use as it comes with a bunch of security features including Zero Liability Protection, and chip and personal identification number (PIN) technology. Card owners are protected against fraud and unauthorized use. Also, since the card isn't linked to your other accounts, there's no risk of you ever losing more than what your card contains.
Mobile app
The card offers great ease thanks to a mobile app that allows online deposits. Plus, you will be able to keep an eye on your balance through the app. It works on both iOS and Android devices and the interface is simple and useful.
How can I get a CIBC AC Conversion Visa Prepaid Card?
It is very easy to apply for a CIBC AC Conversion Visa Prepaid Card. Go to the official CIBC or AC website and request a card, if you already have an account, or sign up for an account if you don't have an existing account. You do not need to be a CIBC customer to request this prepaid card in Canada.
The process will take a few minutes and you will be asked to provide personal information such as your name and mailing address. There is no credit check and the company will not ask for your private financial information. You may, however, have to provide identity documents such as a valid driver's license and proof of address, such as a utility bill.
They will mail you the card and the process can take up to 10 days. Alternatively, you can visit a CIBC Banking Centre to sign up for an account. You will get your card on the spot.
We haven't heard of a lot of rejections when applying for a card. If you're ever rejected, it will most probably be due to incorrect or missing information. Contact the helpline if you face any issues.
Once received, you will have to activate your card before it can be used. The card can be activated by calling 1-800-482-8347 or using the Manage My Card page. The card will be activated right away and you'll be able to use it once you add money to it.
How to add money to the CIBC AC Conversion Visa Prepaid Card
Since this is a prepaid card, you will have to add money to it before you use it. There are two ways to deposit money: through the app or your acconversion.cibc.com account. The website is responsive and works well on mobile devices.
You'll be able to see the exchange rate on the page so you can easily choose a suitable currency to add to your account. We found the rate to be highly competitive. It isn't as volatile as the international market and doesn't change every few minutes.
There are no deposit charges . Simply go to the dashboard or app, provide the required details, and the money will appear in your account in a few hours or days, based on your deposit method. You will then be able to use the card.
CIBC AC Conversion Prepaid Visa Card limits
The company has put a variety of limitations on how you use the card. The purpose of these limits is to protect your interest and to ensure transactions run smoothly. Here are a few things to know about:
Maximum withdrawal in 24 Hours (ATM): $2,000
Maximum 24-hour spend (point of sale): $2,999
Minimum load: $100
Maximum load (single transaction): $2,999
Maximum card balance: $20,000
You must remember these limits since there is no way to increase them. The same limits apply when using other currencies. You will have to convert CAD to your desired currency.
There is no minimum limit requirement to use the card but you cannot deposit less than $100 at a time. Also, since your balance cannot be more than $20,000 at any given time, this card may not be right for very large purchases.
CIBC AC Conversion Visa Prepaid Card: pros and cons
Here are some of the pros and cons of owning this card:
Pros

Cons




You can get your new prepaid card right away
Replacement cards are easy to get
There are several deposit options
It's truly a no-fee card
Can help you save money as it supports multiple currencies

Doesn't build credit
Doesn't offer special discounts
Frequently Asked Questions About CIBC AC Conversion Visa Prepaid Card
Still have questions about the card? Here is some information that people want to know:
Is CIBC AC Conversion Visa Prepaid Card safe to use?
The CIBC prepaid card uses PIN and advanced chip technology to reduce the risk of fraud and theft. Moreover, it comes with additional coverage including Emergency Card Replacement Service and Emergency Cash Service and Protection so there's no risk of unauthorized use or your personal information reaching unsafe hands.
How can I check my CIBC AC Conversion Prepaid Card balance?
You can check your balance by calling the number given on the back of your card. You will get connected to a live agent who will ask you some questions to verify your identity and provide you with the required information. Alternatively, you check your balance by signing into your dashboard or checking the mobile app.
Will my money expire?
The card comes with an expiry date but the money on your card will never expire. You will have to request a new card when your current prepaid card expires and any pending balance will be transferred to your new card.
Are ATM withdrawals free in Canada?
Yes, ATM withdrawals are free in Canada and there is no limit on the number of withdrawals per month, however, you will not be able to withdraw more than $2,000 in a day. Also, while the company doesn't charge a withdrawal fee, some ATM providers may levy a small fee for ATM use.
Find the best credit card for your needs