This credit card is beyond popular in Canada, if Google is any kind of expert on web searches. The BMO Rewards Mastercard is the Bank of Montreal's basic credit card in a long line of rewards cards. The difference between this card and other credit cards where you earn rewards for purchasing specific services is that the BMO Rewards Mastercard allows you to receive points on every dollar spent.
A lot of cards offer rewards on every dollar spent. What makes the BMO Rewards Mastercard so popular? We found out.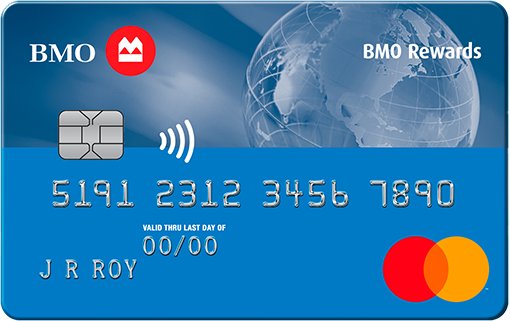 Welcome Offer: 10,000 BMO Rewards points
Annual fee: $0
Interest rate: 1.99% on balance transfers for the first 9 months
BMO Rewards Mastercard Welcome Offer
As a new cardholder, you get 10,000 reward points once you spend a net $1,000 CAN in your first three months of having the card. BMO deposits your points on the file once you achieve that milestone. I think I understand why the card is popular now. Other cards have more stringent requirements to get your Welcome Offer rewards. Some cards make you spend over an entire year. The BMO Rewards Mastercard is very straightforward.
Furthermore, it comes with a 1.99% balance transfer interest rate with a 1% transfer fee. This is valid for the first 9 months you have the card. Otherwise, the annual interest rate is 19.99% and 22.99% on cash advances. If you are a Quebec resident, the cash advance fee is 21.99%. We have seen credit cards with high annual interest rates, so 19.99% is not terrible.
BMO Rewards Mastercard points calculation
Every dollar spent on your card translates to 1 point. Using the points calculator on the card's site, you get a good feel for how rewarding the card really is. The truth is, it is pretty good value. Other cards offer 5x, 3x, or 2x the points for certain purchase categories like groceries or gas. Then when it is time to calculate the dollar value of the points, it gets blurry. When I plugged in a potential $2,000 monthly spend, I quickly saw that in a year I might have 34,000 points. The estimated dollar amount was $340. The value did not change if I used it for travel or merchandise.
BMO points are money for your BMO Investment account 
This is important! You can use your BMO Rewards Mastercard points toward a deposit into your BMO Investment account. Read that statement another way: your points can grow into bigger money. You spend money with your BMO Rewards Mastercard and earn points. Let's face it, you need to buy things. You then stretch your investment dollars when you use your points as an investment contribution. That is something many other cards don't offer. You can also donate points to charity.
Pay your credit card balance with points
The BMO Rewards Mastercard is generous in a way. Not only does it let you invest for your future with points, it also lets you save real money with them. Cardholders can redeem points to pay off their balance. Just like with the investment option, it lets Canadians stretch the power of every dollar. Take that, bills and inflation!
BMO Rewards extended protections
The BMO Rewards Mastercard is a good card with standard product protections. When you buy products with your card, you get extended warranty and 90 day theft or damage protection.
BMO Rewards Mastercard and travel
The BMO Rewards Mastercard is not affiliated with any specific airline or reward program. Because it is Mastercard, cardholders benefit from Mastercard and BMOrewards travel perks. You do not have access to the 24-hour Mastercard Concierge service nor travel insurance protection. We will cover that later. You can buy travel with your card or exchange points for travel. Users get exclusive access to flights, hotels, car rentals, cruises and vacation packages. In fact, a 1 night stay at a 4 star hotel in Banff, Alberta is a mere 25,000 points. If you get 10,000 for signing up, and you spend the average Canadian's annual grocery budget of $13,000, you just need a couple of small transactions to get your free night.
BMO Rewards Mastercard and travel insurance
This is something significant. Travel protection is included for the BMO World Elite Mastercard. That means that you need to take out your own travel insurance because you are not covered with the BMO Rewards Mastercard.
So is this a good car for everyone?
This is a good card. It does not have bells or whistles. However, there is no annual fee and no confusing redemption rules. Plus, you can convert your rewards points into an investment contribution in your BMO Investment account. You can also pay your credit card balance with points. You have doubled the power of your money. That is a great perk.  The BMO Rewards Mastercard makes sense for consumers of any income level. The card has a lower income requirement than the World Elite Cards and offers free supplemental cards. Because it is a Mastercard, you still get global purchase acceptance and access to extensive rewards. The only caveat we can think of is that you must take out your own travel insurance if you use the BMO Rewards Mastercard to pay for your travel. However, you may already be covered through your job. If not, it is easy to get travel insurance yourself.
BMO Rewards Mastercard Rating
| | |
| --- | --- |
| Introductory Offer:3 | 4/5 |
| Rewards | 4/5 |
| Rates & Fees:5 | 5/5 |
| Perks & Features: | 4.5/5 |
| Total | 4.38/5 |
Benefits and perks of the BMO Rewards Mastercard
Low 1.99% on balance transfers for the first 9 months
Earn 1 Reward Point for every dollar spent
No caps or limits on number of points per year
Use your points for cash to pay down your credit card statement
You can use your points for making a contribution to your BMO Investment account
Extended warranty coverage to double the manufacturer's warranty
25% off rentals at National Car Rental and Alamo Rent A Car
Free purchase protection on most merchandise against theft or damage
Zero liability for lost or stolen cards
Find the best credit card for your needs