The BMO CashBack World Elite Mastercard has a lot of perks relevant to Canadians in a digital age. The Card routinely makes the list of best cash back credit cards and best World Elite Mastercards. The BMO Cashback World Elite Mastercard differentiates itself with virtual experiences and app perks on top of cash back and rewards that are looking more like commodities. Its program gives cash back on recurring payments, electric car charging and gas, and has travel perks that extend past hotel stays, making it a really good Mastercard.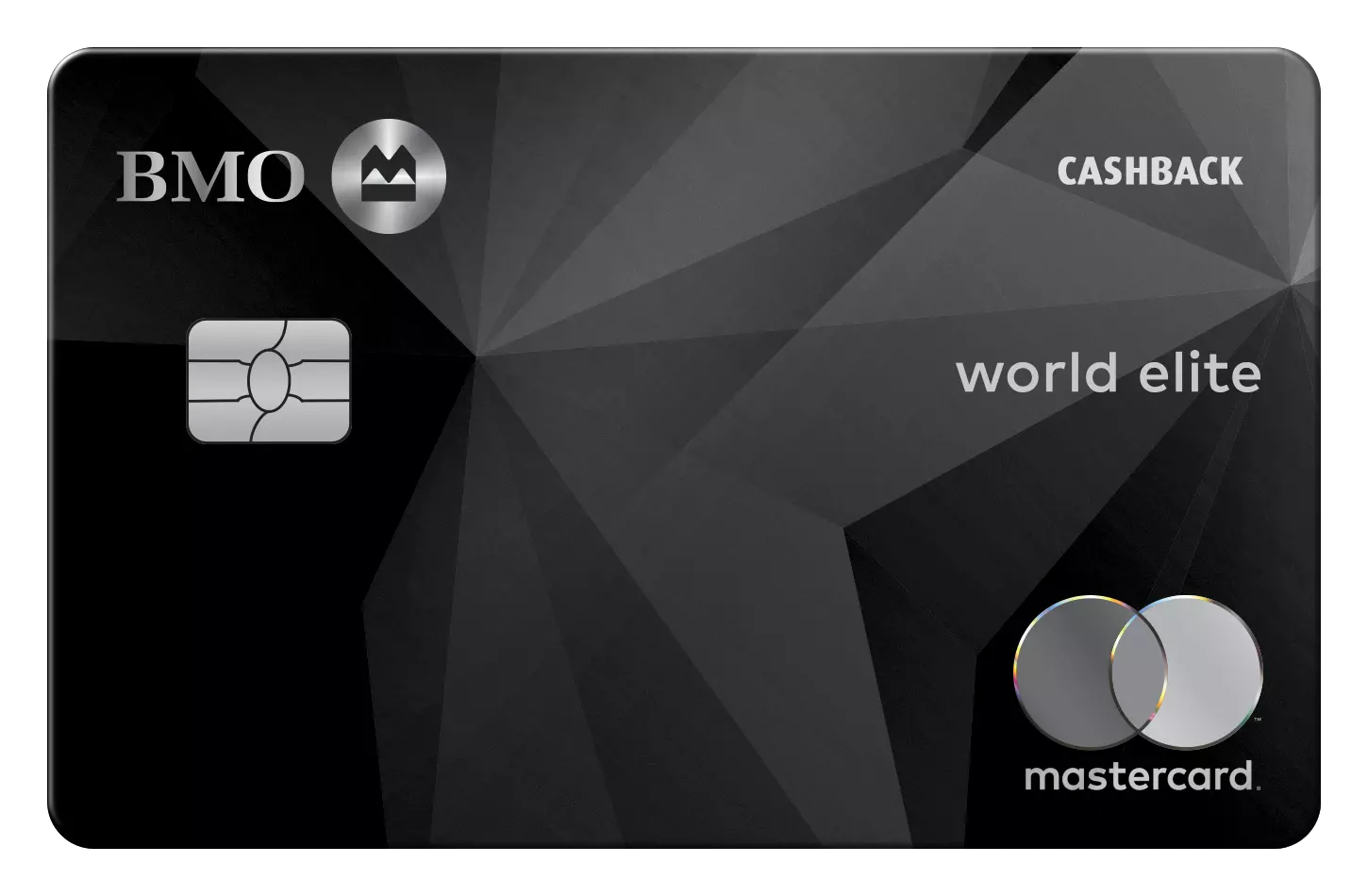 Annual fee: $120, waived the first year.
Welcome offer: 10% cash back in the first 3 months (maximum $260)
Interest rates: 20.99% (Cash advance 23.99% in Canada, 21.99% in Quebec)
BMO CashBack World Elite Mastercard unlimited and Bonus Rates
The BMO CashBack World Elite Mastercard advertises excellent reward rates. The fine print explains that the usual unlimited cash back rate is 1% with special Bonus Rates tacked on to certain categories. The Bonus Rate ends at certain spending thresholds but resets each month. Personally, I think it helps stretch your dollar. 
The BMO CashBack World Elite Mastercard Welcome Offer
The card offers 10% cash back on spending for the first three months. In the fine print, it shows that the maximum payout is $260. While other cards have a minimum spend offer for introductory offers, the BMO CashBack World Elite Mastercard has a maximum eligible spend of $2600 CAN. 
That does not mean that after $2600 there is no longer any cash back. It simply means that the 10% bonus offer no longer applies. You still earn cash back and all your rewards. The 10% offer sticks closely to the monthly spend limits outlined below.
Cash back on groceries
Travel is great but have you seen the price of food? The BMO Cashback World Elite Mastercard is a lifestyle credit card that offers 5% back on groceries. It's the highest offer in Canada. If the cost of food increases 5% to 7% this year, you want this card in your wallet.
The BMO CashBack World Elite Mastercard offers 5% cash back on groceries. Sounds good but what are the ingredients? The 5% includes a special 4% cash back on the first $500 CAN you spend on groceries per month. After that, the cash back is an unlimited 1%.
That means that the advertised 5% is really your usual 1% and a Bonus Reward rate. If you are smart with your spending habits, you can stay within the $500 monthly limit and maintain a 5% cash back. Of course, 1% unlimited cash back helps. If cooking and home entertaining is your preferred experience, this card goes the extra step to reward you.
Cash back for electric vehicle charging and gas
Gas prices are making everyone reimagine their budgets and the truth is that electric cars do not recharge for free. The BMO CashBack World Elite Mastercard does not exclude anyone and rewards both electric vehicle owners and gas consumers with cash back. Although it lists at 3% cash back on the first $300 dollars each month spent refueling, it is again 1% plus a bonus of 2%. If you spend more than $300, only the 1% applies until the next month.
Cash back on transportation
If you spend money on train, ferry, bus, taxis, limos or other transportation, this card has your back. Every month you get 3% back on the first $300 dollars used on these types of purchases. Again, it is the 1% unlimited with a 2% Bonus Rate.
Earn cash back on recurring payments
It is a great leap forward that the BMO CashBack World Elite Mastercard gives you cash back on some recurring bill payments charged to the card. It can include your phone or streaming services. Each month you can earn back 3% on the first $500 in eligible recurring payments which breaks down to a 2% Bonus Rate added to the unlimited 1%. 
Digital everyday offers
Recurring monthly payments often involves digital subscriptions including apps. One of the perks the BMO CashBack World Elite Mastercard offers is digital everyday offers. The current offer is 4 months free membership to Apple Music for new members. It is ad free. If you left Apple Music, you can get 3 months free, but current members are excluded from the deal. Once the four months are up, though, you'll pay $9.99 a month. I guess it's good that you can earn money back each month.
BMO CashBack World Elite Mastercard and travel
The thing to remember is that it is a cash back card and not a travel points card. So it is not surprising that there is no points redemption scheme. You get rebates for experiences and cash back on shopping. Anything related to travel insurance is limited so you will want to supplement your travel insurance with third party providers.
Dragon Pass access
Another leap forward for digital services is Dragon Pass. It's an app whose members get access to airport lounges as well as rebates on airport spas and restaurants. BMO CashBack World Elite Mastercard cardholders get Dragon Pass for free. The pass is a good idea if you are traveling alone, since only the primary cardholder can use it. 
Access to Boingo wi-fi
BMO CashBack World Elite Mastercard cardholders get Boingo wi-fi access to more than a million wi-fi hotspots globally. That includes airports, hotels, coffee shops. If you don't want to use your data or roaming, this certainly helps keep you connected while away.
Travel insurance
Cardholders receive an insurance certificate with their card which outlines insurance benefits. Otherwise, Allianz Global Risks US Insurance Company underwrites the travel medical insurance for the BMO CashBack World Elite Mastercard. Out-of-province or out-of-country emergency medical benefits are available to cardholders under the age of 65. 
Car rental rebates
Certain Alamo Rent A Car and National Car Rental branches offer BMO CashBack World Elite Mastercard cardholders 25% on reservations made at least 24-hours in advance. The fine print states that the offer varies according to dates, location and vehicle type. Still, 25% off is a significant discount.
Mastercard Priceless experiences
It is still one of the best brand campaigns I've seen. When Mastercard branded different experiences as priceless, it took the focus off the dollar value and made it personal. Mastercard Priceless builds on that idea. You get access to events and experiences based on six distinct categories: entertainment, arts and culture, travel, dining, sports, and shopping. 
Mastercard Priceless experiences offer digital experiences that again capitalize on the virtual. You attend fashion shows, culinary and cultural events without leaving home. Of course, you also have in-person events. You can treat yourself to a personal shopping experience at Fondaco dei Tedeschi, ​​the premier Venice, Italy. You can also get 4% cash back from restaurants. In all, it is an experience that you would not get anywhere else.

Other BMO CashBack World Elite Mastercard benefits
Needless to say, a Mastercard comes with a lot of benefits. For BMO CashBack World Elite Mastercard cardholders, it includes 24-hour concierge services, zero liability, extended warranty, and theft and damage purchase protection for items. You also have a free membership to Dominion Automobile Association (DAA), a Canadian roadside assistance service.

BMO CashBack World Elite Mastercard: Who is this Mastercard for?
You have to have a minimum income of $80,000 CAN individual or $150,000 CAN household income to qualify. There is no option to add authorized users so it isn't for family sharing. It doesn't pretend to be a value-driven card but an experience-driven one. 
I used the card's online benefits calculator. If I spent an average of $2000 each month, I might get back $194 in for the 10% Welcome Offer and potentially $794 cash back in my first year. On a $24,000 annual spend, that works out to less than 1% even if I add in the $120 annual fee.
But maybe the card isn't for the budget conscious or the travel hacker. It screams city living and access to every convenience. If you see yourself interested in a consistent lifestyle, then this card is for you. Lifestyle happens all year, and with this card you don't have to save up miles or points to get a vacation. Much like streaming services and apps, the BMO CashBack World Elite Mastercard lets you choose your own experiences on your schedule. It gives you the decision making power on how to spend and earn your time and your money. It is a Mastercard for digital natives and digital nomads alike.

Click here to learn more and apply.
BMO CashBack World Elite Mastercard Rating
| | |
| --- | --- |
| Introductory Offer: | 4/5 |
| Rewards | 4.5/5 |
| Rates & Fees: | 3/5 |
| Perks & Features: | 4/5 |
| Total | 4/5 |
Benefits and perks
5% cash back on $500 in grocery purchases each month. Best grocery cash back offer in Canada

3% cash back on the first $300 each month on fuel and electric car charging

3% cash back each month on the first $500 spent on recurring payments

Unlimited 1% cash back on everything
Dominion Automobile Association roadside assistance membership

Waived annual fee for the first year

Basic travel insurance protections
Mastercard Priceless experiences: virtual and in-person
Dragon Pass for the primary cardholder at airports worldwide

Enjoy unique dining events and have access to a concierge all day, everyday
Find the best credit card for your needs