Is Amazon Prime worth it? Amazon, the world's most coveted online retailer, fulfills billions of orders daily from consumers all over the globe. From the hottest gadgets to cool coffee mugs, this online behemoth carries it all. But most importantly, what keeps Amazon thriving is its customer-first approach, and as such, this company is globally lauded for its seamless pre and post-purchase customer service. Here's what you need to know before signing for the iconic Amazon Prime Canada membership.
Amazon Prime at a glance
Here's a quick summary of Amazon Prime Canada. It costs $9.99/month or $99.99/year. Students pay just $4.99/month, which is $59.88 a year, as well as a 6-month free trial. For everyone else, Amazon Prime Canada offers a 30-day free trial.
If you're a frequent shopper at Amazon, Amazon Prime is definitely worth it and is one of the best subscriptions you'll purchase. Savings on express shipping fees will more than makeup for the cost of the membership. Along with free express Amazon Prime delivery, which is 1-2 day shipping, you'll also get access to other Prime products like Prime Video, music streaming, and Prime Books. Read below to learn more or click here to go directly to Amazon Prime.
Why get Amazon Prime in Canada?
Thanks to Amazon Prime, more than 100 million Prime Members get Amazon orders delivered to their doorsteps within just 2 days. Before you commit, try it for free for 3 days first to see how you like it.
Get a 30-day free trial to Amazon Prime:
What is Amazon Prime?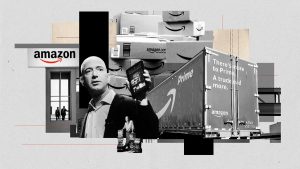 Amazon Prime is Amazon's popular subscription service that gives its loyal users access to a myriad of benefits such as lightning-fast shipping, streaming video and music service, exclusive members-only deals on Amazon Prime Day and other perks.
Although Amazon Prime was launched in 2005, it entered the Canadian market in 2013, and since then its presence in Canada is slowly but surely growing.
How much does Amazon Prime Cost?
If you are thinking about signing up for Amazon Prime, you've two plans available – $9.99/month and $99.00/year. It's cheaper than a Netflix subscription (120$/year) and slightly more expensive than a Costco Canada Membership (60$/year).
If you're a savvy Amazon shopper, you can try out Prime by signing up for a 30-day free trial. This offer does not apply to Quebec residents, who get the first month free with a regular membership rather than a free trial.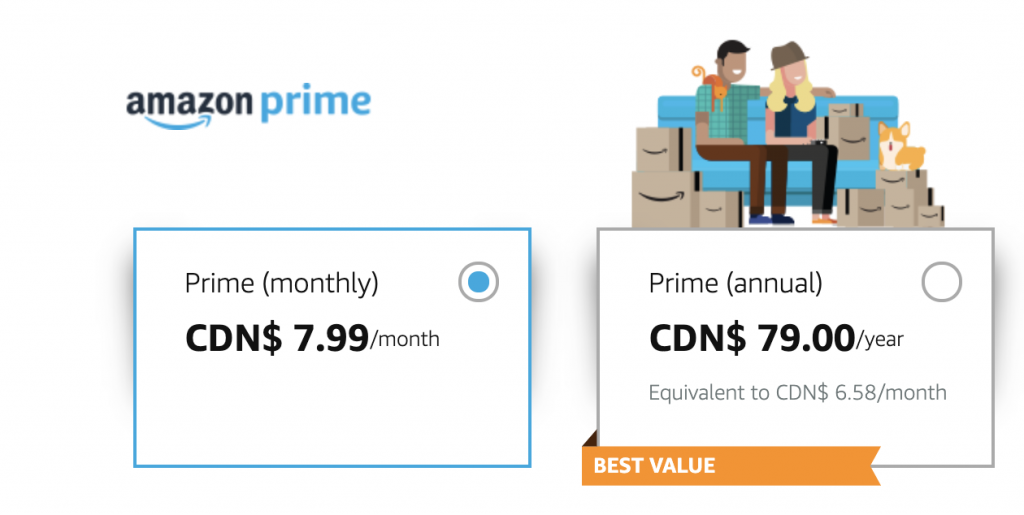 In 2014, Amazon increased their annual membership fees throughout the US from $79 to $99, which caused plenty of members to rethink and even cancel their subscriptions. This price increase, thankfully did not affect Amazon Prime Canada. However, the price amount turns out to be the same when the currency is converted.
If you're a student: You get a 6-month trial instead of a 1-month trial, and you get 50% off your monthly plan at just $4.99/month.
7 Benefits of Amazon Prime Canada
1. Free ONE-DAY Shipping
If you shop on Amazon often, you know that standard shipping costs can end up being more than the cost of a small product you are trying to buy, and express shipping is even more expensive. Amazon Prime's wide range of free shipping options is one of the most obvious benefits that attracts the majority of Canadians to sign-up for Amazon Prime.
If you are tired of waiting for a week or two for your orders to come in, or you urgently need to get your order within a day or two, then this Two-Day shipping feature will bring you significant savings in both time and money.
There's more though – Amazon Prime Canada also offers FREE Same-Day shipping to residents in big cities like Toronto, Vancouver, and Calgary. With this feature, Amazon Prime subscribers in these cities will get their products the same day, 7 days a week, for free. Eligible orders over $25 made before noon are delivered before 9pm. Orders placed after the cut-off time will be delivered the next day.
2. Free TWO-DAY Shipping
This is an Amazon Prime benefit almost all Prime members enjoy and love. At no additional cost, you will get your orders delivered to your doorstep within two days. Unlike the Free same-day or one-day shipping, Amazon Prime's Two-day shipping is available to almost all addresses in Canada except for specific postal codes listed.
If the item you are trying to purchase is available for Prime shipping but is out-of-stock, it will be delivered to you within two-days once its back in stock. The Two-Day Shipping offer does not have minimum purchase requirements.
But here's the caveat – if the product you are purchasing is coming from an international vendor, they may not have two-day shipping available for you. For example, if you are into gardening and want to order seeds from a vendor in Asia, through Amazon, you will have to settle for standard shipping.
That said, note that free two-day shipping is available on over 90% of the items on Amazon, and Amazon Canada Prime offers free Standard Shipping, and Discounted One-day and Same-Day shipping rates on selected items.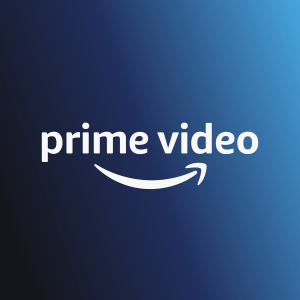 3. Amazon Prime Video
Canada's cord-cutters have no shortage of streaming platforms. There's Netflix, Hulu, CraveTV and more, but they are exclusively streaming services and their monthly fee is relatively higher than Amazon Video – which comes free with your Prime membership.
Although smaller than its competitors, Amazon Video carries a diverse collection of movies and hit TV shows like Community, Curb Your Enthusiasm, The Wire, and Parks and Recreation. Do note that Amazon Prime Video in Canada carries a smaller selection of content than the version available in the US.
New shows are constantly being added to their platform, though, and their collection is still impressive, considering you get to save big with their awesome free shipping benefits too.
4. Unlimited music streaming
Similar to Spotify, Pandora and Apple Music, Amazon has its own music streaming service with over 1 million songs from popular artists like Shawn Mendes, Drake, and Imagine Dragons. It contains over 2000 playlists that you can choose from based on your mood.
What lacks in Amazon music is the ability to deeply customize the stations depending on your taste. For example, it doesn't allow you to make your own station around a specific song which can be annoying for a musicophile. But if you are a student or a music lover on a budget, then being able to listen to ad-free music as a Prime member for free is extremely valuable.
Amazon's hope of course is that you will cancel all your other music subscription services and upgrade to Amazon Music Unlimited but Amazon Prime Music is good enough to meet many people's basic music needs. Amazon Prime Music is supported on iPhones & iPads, Android Phones & Tablets, Echo Devices, Web, Fire TV, Automotive, Mac & PC.
5. Amazon Prime Reading
If you are an avid reader who goes through multiple books a month, but doesn't have the budget to keep buying new books, then you'll love Amazon Prime Reading. No, you don't need a Kindle to take advantage of this feature. Prime Reading is available to all Amazon Prime Subscribers, and anyone with a web browser can use Amazon's Cloud Reader to access their online library containing over 1000 books and magazines.
With Amazon Prime Reading, you can get your hands on about 10 books at a time for free. Once you hit that cap, you will have to return at least one of the items you checked out to borrow more. Some of the books also come with an audio narration (similar to audiobooks). While the number of books available doesn't really change much, new books are added constantly while the old ones fade out of the collection.
6. Amazon Fresh
Amazon Fresh is Amazon's grocery delivery service. This used to be separate from a Prime membership and users had to pay $15/month to be able to order groceries online and get them delivered. Now, it's included for free for all Prime users as part of their membership.
7. Whole Foods Delivery + Discount
Amazon acquired Whole Foods in 2017, and that's great news for Prime members because they can now get groceries delivered free from Whole Foods as well. Additionally, members will also be able to save an extra 10% off everything, excluding alcohol. This discount applies to in-store purchases as well.
Occassionally, Whole Foods will also offer exclusive deals and discounts for Prime members only.
Amazon Prime for Students
If you are a student who frequently uses the internet to stream content and rely on Amazon for most of your shopping needs due to its affordability and convenience, then you should look into Amazon Prime Student.
Students enrolled in two and four-year schools can take advantage of a more affordable Amazon Prime plan not available for general public. Not only do you get 6 months of free trial, but after that trial period ends, you can sign up for their CDN $3.99/month plan, or an annual plan of $39.00, which is almost half of what you will pay for a general Amazon Prime plan. To sign up for Amazon Prime Student, all you need is your school email address.
Amazon Prime Student members get access to all the benefits of Amazon Prime such as Free Two-Day Shipping, One-Day/Same-Day shipping, Instant Access to hundreds of movies and TV shows through Amazon Prime Video. On top of that, you will receive access to exclusive students deals on textbooks, laptops, fashion and more, free subscription to Twitch Prime, and Free unlimited photo storage on Amazon Drive.
What is Amazon Prime Day?
Held in July, Amazon Prime Day is an annual shopping event that exclusively celebrates Amazon Prime Members by rewarding them with magnificent deals that are not available at any other time of the year, or to the general Amazon shoppers.
The event lasts for 48 hours. Amazon Prime Day is very comparable to Black Friday but longer. Some of the deals are known as lightning deals which means they are only available for a specific period of time.
Some Amazon Prime deals are exclusively available on their apps, and then there are other deals that are available sitewide. This is a very popular event, and some of the top-selling products in Canada's Amazon Prime Day 2019 were 23andme Health + Ancestry Kits, LifeStraw Personal Water Filter, and PlayStation 4 Slim with Spiderman and Horizon: Zero Dawn.
Many non-Amazon Prime members sign-up for a free trial just to shop to their heart's content on Prime Day. Amazon, of course, hopes that you'll be hooked to their service and stick with it far after the event is over. But if it's not for you, you can easily cancel your subscription plan before your trial period ends.
Is Amazon Prime Canada Membership Worth It?
Amazon Prime membership is worth it for Canadians who frequently shop on Amazon, and want their purchases quickly at their doorsteps. If you are someone shopping on their platform every couple of days, standard shipping rates can add up to a significant amount.
By subscribing to Amazon Prime, you can save on repetitive shipping costs even if same/one/two-day shipping is not available for your products because it does offer discounts on standard shipping on many of its products.
Although Same-Day shipping is only available for those living in bigger cities such as Vancouver, Calgary, Toronto and Montreal, other Canadian residents can still enjoy One or Two-day shipping at no additional cost.
Amazon Prime is also perfect for Canadian students for whom most of the spending is relegated to textbooks, laptops and entertainment. Prime Student gives you free access to Amazon Prime for 6 months, and the plan for students cost about 50% less than their regular subscription options.
Prime members also enjoy steep discounts offered on Prime Day that can significantly make up for the membership fee.
And, if you turn to streaming services to curb your entertainment needs, Amazon Prime Video and Music has a not-too-shabby collection of popular movies, TV shows and song titles – All for free. Even if you count their monthly/annual membership fee, it's still less than most of their streaming competitors.
Should you sign-up for Amazon Prime Canada?
The biggest pull for signing-up for Amazon Prime is undeniably their shipping offers, and therein lies your answer as to whether or not Amazon Prime is worth it for Canadian Residents.
If you don't often shop on Amazon, then a prime membership won't be worth signing up for because the other perks are still limited when compared to their US versions. Even the streaming collection offers a narrower range of video and music content than sites like Netflix and Spotify, which would be more worth your money. If you're thinking about signing up for Amazon Prime Canada for Prime Video, then you might want to reconsider that decision because the selection pales in comparison to the US version.
If you only use Amazon a couple of times to shop, you just need to make $35 worth of purchases during each transaction to be eligible for free standard shipping, without spending $99/year on their subscription fee.
Whether Amazon Prime is worth it or not will differ from person to person. Frequent online shoppers stand to gain a lot from Amazon Prime especially when it comes to shipping costs. Prime is also worth it if you like the collection of content available on Prime Video and Music. But if you only shop online a few times a year, and already have a Netflix account, then you may be better off without Prime.
Regardless, if you are curious but still hesitant about Prime, you can sign-up for their free trial to test out the service for 30-days at no cost to you! If you don't like the service, and cancel before your trial period is up, you won't be charged for the next month.
Try it out free: Click here to get a 30-day free trial to Amazon Prime